Smart & Sustainable living
SSAYE provides a platform for people/communities to make better decisions and manage their assets and life for progress and better economics, giving priority to sustainability and local developments. People can also participate in projects.
Housing
Transportation & Mobility
Inclusive Urban Planning
suresh sreeni
United States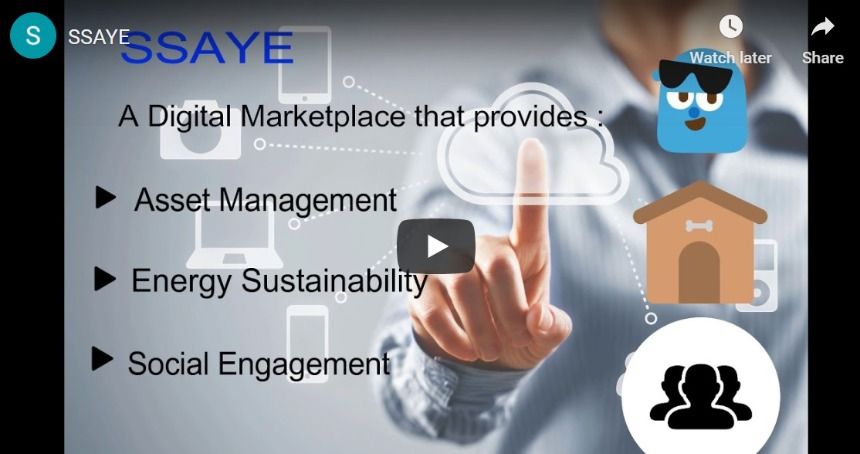 SSAYE provides a digital marketplace platform to enable individuals/families to make better decisions to lead smart living to make their economics and social engagement better. The platform provides them a tool to manage their assets and other engagements in one portal and collaborate with communities to improve themselves economically, for their well-being and be part of smart economy.
There are multiple modules to address different needs, the immediate ones being asset management, energy sustainability and social collaboration. With asset management they can manage their multiple assets in one place and get better value for their asset and it also enables smooth transition. The blockchain framework provides a trusted transaction in the ecosystem, while the AI enables smart decisions.
Likewise the individual/family can adopt sustainable practices such as solar power generation or urban agriculture or smart transportation.
Social engagement enables healthy living, mind positivity and community participation for better social living.
Benefit to individual/family: One place to manage multiple assets and get better value with lower maintenance cost.
One use case 1: Manage single/multiple homes in the portal, reduce buy/sell transaction cost on the platform and track various services/maintenance in one place and thus enable smooth transition to next owner.
Use case 2: The platform provides sustainability solutions like installing solar power, power storage/grid-tie where applicable and enable remote management thus reducing the power cost for consumer and better realization for the asset.
Benefit to community: Engage local service providers with quick interaction/confirmation, and support local economic development
Use case 3: Cities/towns/home owner association can provide this tool for their home owners to manage their property, and thus enable them to reduce operational costs and community engagement for healthy living.
Business model: Direct services to asset owners who pay on transaction cost and optional prime membership fees. Cities/towns/home owner association can have white-box custom solution to meet their community members needs and manage the  social healthy living, the respective agencies pickup license annual license fee, and may/maynot charge their community members.
Meet the solution owner
suresh sreeni
CEO
Serial entrepreneur, B.E., 25+ yrs in international business, lead 300M$ programs, IT, Consulting, Architecture, Smart City, Solar power, Product development, US DOD contractor, Head, leadership at Best Buy USA, Capgemini E&Y, HP, Fortune 100
Contact suresh