Recycled Floors from Egg Shells and Plastic Waste
Discover the solution aiming to turn organic waste from Ugandan communities into usable construction materials.
Housing
Waste Management
Sustainable Building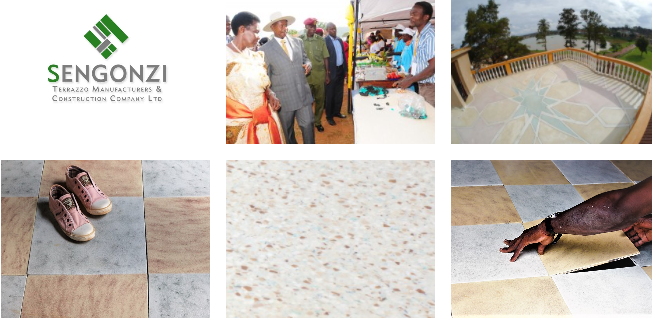 In Uganda, 67% of the population can't afford quality housing. Most houses are built with poor and inadequate materials, such as pure cement floors. This type of flooring develops cracks on its surface, leading to dust in the household. This results in diseases such as respiratory infections, asthma, diarrhea, and more. To help solve this issue, Sengonzi Godfrey, Ugandan entrepreneur and researcher, came up with durable, affordable and safe flooring material for residents of the community.
Sengonzi Terrazzo Ltd., founded in 2014 by Sengonzi, designs floor tiles made of egg shells and plastic bags. "Eggshell wastes are found wherever there are eggs. This means that our tiles can be produced everywhere in the world." In the process, eggshells are selected and mixed with cement as a binding agent, placed in molds, and turned into floor tiles. A variety of designs are then created using epoxy resin as a filler agent. Unlike the previous cement floors, these recycled tiles are safer for the residents' health. Since their beginning, Sengonzi and his team have acquired the necessary equipment to crush 500kg of eggshells and make 300 tiles per day. So far, they have collected 30 tonnes of eggshells, producing 160,000 tiles.
This solution also answers a social need in the Ugandan community by creating job opportunities for women and youth. Employers carry out various stages of tile production, such as sorting the collected materials, moulding the cement mixture, ensuring the quality of the final products, etc. Sengonzi and his team eventually want to expand the solution to Rwanda and Tanzania once they have enough space and financial support.
Through job creation and a solution that helps the development of the community, Sengonzi Godfrey's solution addresses the following SDGs : decent work and economic growth (8), industry, innovation and infrastructure (9), sustainable cities and communities (11) and responsible consumption and production (12).
Meet the solution owner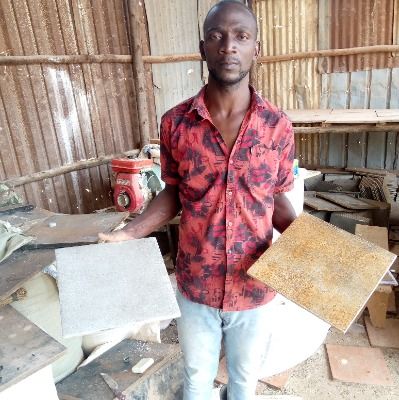 Sengonzi Godfrey
Researcher and Innovator
With a degree in construction management from Makerere University, Sengonzi has devoted himself to research and innovation in order to come up with solutions to the pressing needs of people in his society. Projects include the production of recycled floor tiles, the manufacture of organic fertilizers from inner membranes of white eggshells and the manufacture of flammable materials from outer eggshells. https://www.facebook.com/sengonziterrazzo
Contact Sengonzi