Project MoDU
The solution has a concept to improve mobility of disabled people by applying new technologies to existing wheelchairs, and to propose a new wheelchair concept as a personal transportation for everyone through self-driving technology.
Transportation & Mobility
YoungJin Kwon
South Korea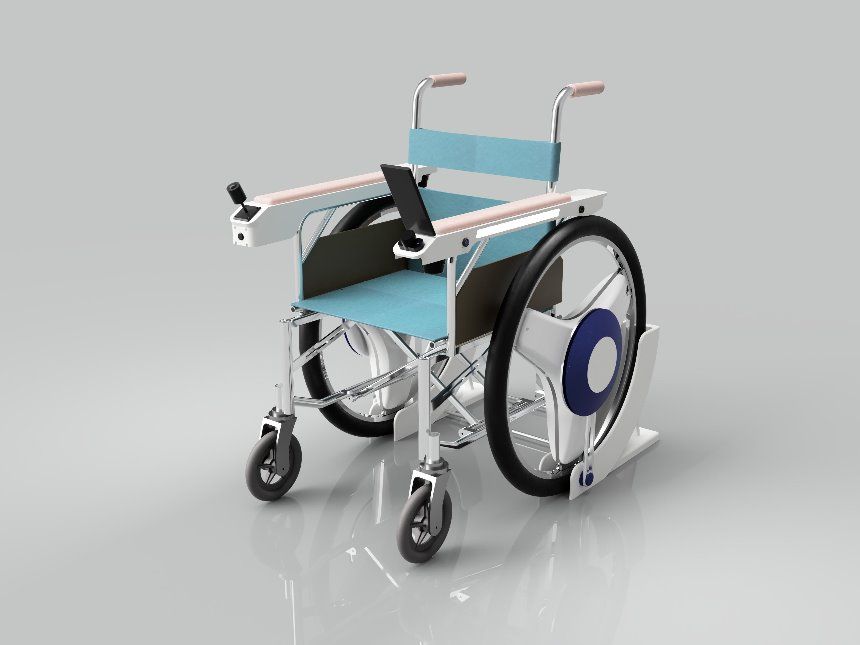 This solution has a concept to improve mobility of disabled people by applying new technologies to existing wheelchairs, and to propose a concept of personal transportation that can be used by disabled or elderly people as well as those without physical discomfort through self-driving technology.
The name of this solution is MoDU. MoDU means Mobility for Diversity and Universality. MoDU project has been started by ZER01NE(Zero one) in 2020.
ZER01NE is that Hyundai Motor's new open innovation platform for promoting and supporting creative talent launched in Seoul, Korea in 2018
ZER01NE has goal for Supporting and Finding new 'Ideas' and 'project excuter' on issues and problems in present and future society.
ZER01NE Select people(called 'Creator') with expertise in a various fields every year. there are about 100 creators are participating in programs and working on their own projects as a members of ZER01NE. They are mainly media artists, programmers, engineers, designers and architects. ZER01NE Provide financial support and a network of experts for their project progress.
MoDU project has been started as ZER01NE Creator's project to improve existing wheelchair in 2020. now, 2021, MoDU project is expanded to develop Self-driving technology in wheelchair and its verification is going on site.  
Distinct features of MoDU
The main feature is the structure of converting existing manual wheelchairs into electric wheelchairs by applying in-wheel systems (Battery, Motor, Controllers integrated wheel) allowing disabled people who used to use conventional manual wheelchairs to simply change their wheelchairs to electric wheelchairs.
The new electric wheelchair is cheaper, lighter, and more portable than other electric wheelchairs.
Self-driving technology also has the characteristics of assembling modules equipped with sensors(Lidar, Ultrasonic Sensor etc.) for autonomous driving in frames of manual wheelchairs to make regular manual wheelchairs into autonomous wheelchairs.
1) All wheelchairs or automatically transfer passengers to specified locations
- Using tablets with dedicated maps
- Automatic return to the specified position when driving is complete
- Manual operation mode can be switched
- Rear tablet, color lamp to indicate wheelchair condition
2) Accident prevention/damage reduction
- Automatic braking in the event of an obstacle
- Detour maneuver for designated obstacles or areas
3) Provide space-specific information
- Provide Media Docent @Gallery & Museum
- Information on locations (public facilities/tourism information)
The solution provides the effect of improving mobility for disabled people in the short term, but in the long term it is primarily aimed at expanding the technology to personal mobility available to everyone, including disabled people.
So, the goal of our project is not only to develop a new concept for self-driving wheelchairs, but also to promote the possibility of wheelchairs to serve new purposes by self-driving functions.
We believe this can improve the perception of disabled people, wheelchairs, and want to reconstruct the concept of wheelchairs as a future means of personal mobility that everyone can use.
And this project is very significant as the first attempt by ZER01NE to redefine and fundamentally improve the problems of current and future society.

Meet the solution owner
YoungJin Kwon
ZER01NE Creator's Project Director
YoungJin is one of the founding members of Zero One and is currently in charge of the Zero One Creator Project and Program Planning. He has 10 years of experience as an automotive design engineer and 5 years of planning the operation of advanced new technologies for automobiles. He has had various collaborative experiences with experts in various fields, including artists, architects and engineers. He is interested in finding solutions to maintain a balance between new technologies and people and to correct that balance where it has broken.
Contact YoungJin