Planet 3R
Planet 3R is a social enterprise dedicated to converting textile and plastic wastes into Eco-friendly products using the 3R (Reduce, Reuse, Recycle) to save our planet Earth by weaving them into innovative items.
Waste Management
Sustainable Building
Culture, Communication & Heritage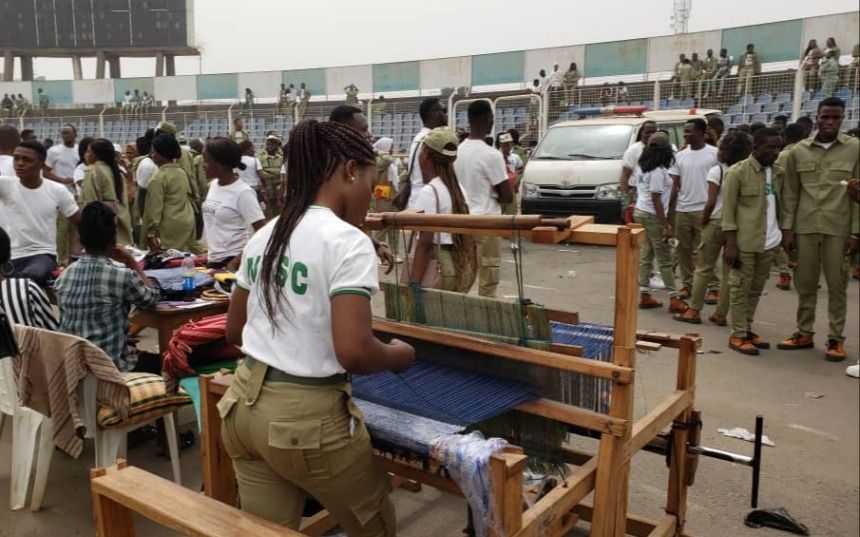 SOLUTION TITLE
Waste to Wealth
INTRODUCTION
Planet 3R is a platform created for the sole purpose of transforming and converting wastes materials into wealth. The process of transformation is achieved through the 3R method (Reduce, Reuse and Recycle) of converting pure water nylon/sachet into finished products such as shoes, hand bags, school bags, laptop bags etc. These process of transforming pure water sachet is initially started on a weaving loom before being made into various beautiful products. Planet 3R is considered as a platform for creating wealth especially amongst the youths as well as a way of creating an ecofriendly environment conducive for living.
2.0 GOAL
To train and empower youths/women on how to create wealth by acquiring skills on conversion of pure water nylon and textile wastes into finished products through the art of weaving.
3.0 THEME
Empowering youths/women with weaving skills in Textile and Waste Recycling. 
4.0 AIMS AND OBJECTIVES
Our aim is to bridge the gap between potential and opportunities among unemployed youths in Nigeria. Our tool is art of converting wastes as an economic survival skill. Through the training, we will teach the youths on how to turn ideas into market; they will learn to create, design, and market their products. These acquired skills are important in creating entrepreneurs who are not job seekers but job creators in the future.
Through the project, we hope to train 100 economically dependent youths and women from each State in the Nigeria with skills that will transform their lives. We hope that through this empowerment program, the trainees will be able to generate wealth that will have positive impact on their families and the community.
5.0 PROJECT LOCATION
The training will take place in all the States in Nigeria. Our target includes low income earners and communities with low standard of living. Criteria for selection will be based on level of interest shown by the youths in learning the art of converting plastic and textile wastes into ecofriendly products. 
OWNER BIO
In my quest to creating more impact, I realized many people in my community usually dump textile and plastic wastes by the road side which majorly causes blockage to drainage while some people even burn them thereby depleting the ozone layer which is hazardous to our health and environment thus prompted me to use my weaving skills to create an innovative solution by starting planet 3R initiative.
My name is Adejoke Lasisi, I'm the founder and creative director of Planet 3R. 
Planet 3R initiative focuses on the empowerment of unemployed youths by training them on effective ways to earn income from recycling plastic and textile waste. We weave Plastic and Textile Wastes Into beautiful bespoke and avant grade products for the art savvy. We also engage in Grassroots and Creative Awareness programs geared Towards Achieving a Clean Environment.
In the space of one year, we've also been able to achieve some of our goals which includes collection of 58,352kg of recyclable waste (pure water sachet and other plastic bags) from the street, training of about 102 youths virtually and physically, sensitization of over 4300 students across various secondary schools in Ibadan, Oyo state on waste management and recycling. We've also employ 16 individuals which have overall contributed to a cleaner and safer environment.
With this initiative, we are sure of making more impact by empowering youths and women in communities across Oyo State(where will operate from)and Nigeria as a whole.
In the next 5 years, this initiative would have impacted millions of lives as the idea can be replicated in different communities across the globe.
Meet the solution owner
Adejoke Lasisi
Miss
Adejoke Lasisi is an African fabric designer and environmentalist. She is also the founder and creative director of Jokelinks Weaving School. Adejoke holds a bachelor's degree in Economics from Obafemi Awolowo University Ile-Ife. She also holds a certificate in Entrepreneurial Management from Enterprise Development Center Lagos, Nigeria. Adejoke is also saving the planet using her weaving skills by converting textile and plastic wastes into innovative products. Adejoke emerged as the National MSME of the year 2020. She was also awarded by the President of Nigeria as one of the five young Innovators in Aso villa Nigeria 2020. She recently won the Africa green grant award 2020 organized by Eleven Eleven Twelve Foundation. Her aspirations are diverse, but her utmost goal is to create a world without wastes while preserving our cultural heritage by impacting the knowledge of handwoven wastes into youths and women through entrepreneurial skill acquisition programs in Nigeria.
Contact Adejoke