Informal and DIY gas stations in remote locations
As the largest archipelagic country, Indonesia face challenges in mobility for rural area residents due to the shortage of gas. Many microentrepreneurs utilized jerry cans and other materials to invent their own DIY and informal gas stations.
Transportation & Mobility
Inclusive Urban Planning
Waste Management
Parmanto Microentrepreneur
Indonesia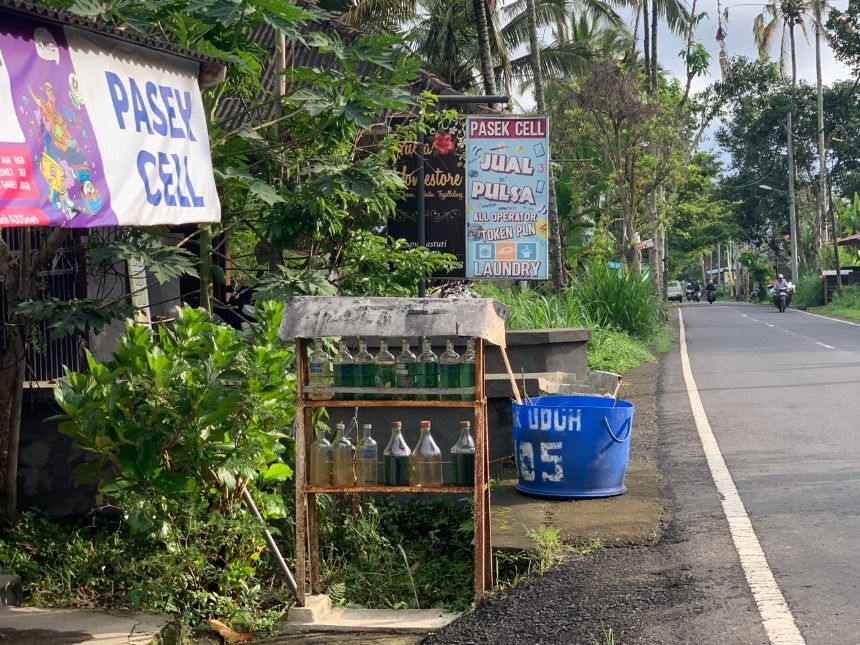 As the biggest archipelago in the world, Indonesia is riddled with issues of increasing inequality, not limited to that of infrastructure and development. Thus, despite the unprecedented rate of urbanization, majority of its population still travels to remote locations to fulfill their daily necessities utilizing cars, motorcycles, and other types of vehicles. One of the unintended effects is the development of many informal sectors, including on within the transportation sector.
Indonesia's informal transportation landscape has evolved over the years, with more variation of vehicles introduced to the market, mainly consisting two- and three-wheelers to complement existing formal taxi systems. Moreover, the recent developments of the digital economy and the birth of on-demand service platform and digital payment technology companies such as Gojek and GRAB, gave way to one of the fastest-growing informal transport mode – motorcycle-taxis (called ojeks in Indonesia).
With the vehicle's ownership rate exponentially increased over the last few decades, so does the demand for gas stations in both urban and rural areas. As the national energy company, Pertamina, focuses on constructing large scale gas stations in various cities, it is challenging to cover rural areas with limited access and infrastructure. Despite their efforts to to provide as many and wide-spread gas stations as they could, fulfilling the demand for most of the remote population remains challenging. Thus, microentrepreneurs around the nation saw this as a business opportunity to exercise the hivemind by building their own DIY gas stations, utilizing jerry cans and other readily available materials.
These informal gas stations initially started as a collective initiative from various communities throughout Indonesia, utilizing reused bottles (such as those from alcoholic beverages), and are stacked in a wire rack by the side of the road, typically in remote locations. In order to further support daily activities of its population, several creative microentrepreneurs started to purchase gas in jerry cans in order to include in their shops' range of products. They then gain profit from increasing the price slightly compared to that of the large gas stations and reaching the outskirts of cities.
As the years go by, more modern products are developed and sold in the market, entitled 'Pertamini' or mini 'Pertamina' boxes, reflecting large-scale gas stations from the national energy company with their tubular storage, digital display screens and hose. As seen in the photos, currently there is a wide array of models available for purchase and usage, displayed in smaller roads. The main target market for these informal gas stations is mostly motorcycle riders, which travels covers to the utmost remote locations of Indonesia.
The sporadic initiative of utilizing jerry cans or used bottles in the early establishments of these small-scale gas stations stemmed from the unmet need of fuel coverage. What started out as a seemingly scattered initiative to increase microentrepreneurs' profit, has turned into a collective movement that evolves in an accelerated pace. From employing available materials in the neighborhood, with the healthy competition among other business owners and growing need from the informal market, this particular grassroot solution has even instigated 'proper' the importance of product design as a means to reach customers. This model has proven to be successful with the vast replication throughout Indonesia, with more developing advanced versions of the 'Pertamini' gas station. By accommodating basic mobility needs for majority of the population, this grassroot innovation has supported developments in different areas such as providing access to accessible transport systems, contributing to road safety, enabling access to school and healthcare, among others. If other communal pain points that span over the entire country's population can be identified and adeptly tackled, then the replication process could potentially occur organically and its impact could be as in-depth as in this case study. More recently, even the national energy company started to branch out and developed its own version of small-scale gas stations, entitled 'Pertashop' to accommodate the market's growing demand.
Meet the solution owner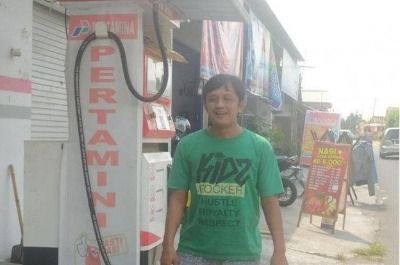 Parmanto Microentrepreneur
Parmanto - Microentrepreneur
Parmanto (40) is a microentrepreneur in Klaten regency in Central Java, Indonesia. He's one of the many small moms & pops shop owner, that own informal gas station to enable better mobility for motorcycle owners in rural areas.
Contact Parmanto