Imagination solar powered car
It's an Eco-friendly car, which does not use any fossil fuel to powered it, and it's free of pollution. The body of the car is built with cane stick which is a local material throughout. This car can cover a distance of 15km per hour on a tarred
Transportation & Mobility
Emmanuel Alie Mansaray
Sierra Leone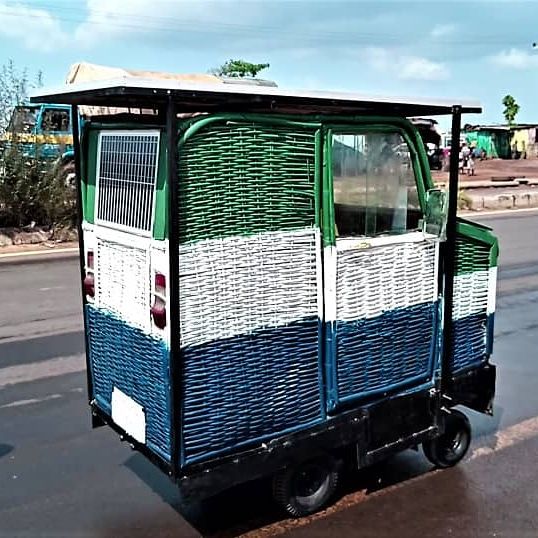 -THE 'IMAGINATION SOLAR CAR'-
'Imagination Solar Car' is Sierra Leone's first locally made solar powered car. It's an Eco-friendly car, which does not use any fossil fuel to power it. The body of the car is built with bamboo (cane stick) which is a local material throughout. This car can cover a distance of 15km per hour on a tarred road.
The 'Imagination Solar Car' has a large solar panel at the top of it which powers the engine and also acts as its canopy. The car has a self-made engine which is different from all other cars with three gears attached to it for both back and front movement. It has a left and right traffic light, a horn, four head lights and an accurate break system. It has two doors and two mirrors attached to its left and right flanks. 
The Imagination car was built firstly as a result of the knack in me to invent creative technology in solving social problems in my community. So, I decided to create the 'Imagination Solar Car' which is powered by the sun to reduce the risk of contracting incommunicable and respiratory diseases like lung cancer, asthma etc. caused by the inhaling of hazardous fumes emitted by cars using other types of fuel (fossil, gaseous and liquid).
In 2018, the number of chronic lower respiratory diseases (including asthma) deaths in the world is 159,486 and respiratory diseases ranked the 4th Cause of deaths in the world. Source: National Vital Statistics System – Mortality Data (2018) via CDC WONDER.
Goal 7 of the Sustainable Development Goals talks about 'Clean Energy' and having a solar car like my 'Imagination Car' using solar power for transportation will make for a cleaner atmosphere, thereby reducing the risk of dangerous gaseous emissions that have led to the death of thousands of people around the world.
Furthermore, this solar powered car is pollution-free, and it operates by converting sunlight into electrical energy using photovoltaic cells. Therefore, it does not produce harmful or hazardous emissions. So, since solar energy is a renewable source, the sunlight that is used to power this car today will still be there tomorrow, and will continue to shine for years to come and so does the 'Imagination Solar Car'.
Meet the solution owner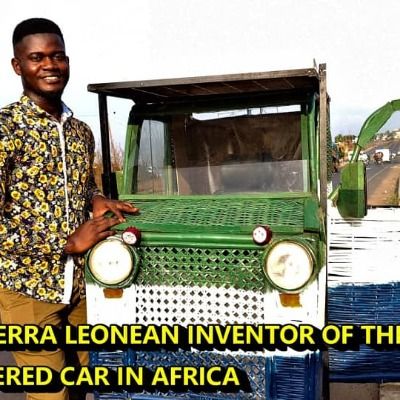 Emmanuel Alie Mansaray
Mr
My name is Emmanuel Alie Mansaray and I'm a Sierra Leonean by nationality. I'm a self taught engineer, inventor, creative writer and thinker, renewable energy expert. I'm possuming my first degree ( BSc in Geology) at the Fourah Bay College (USL)
Contact Emmanuel Alie