Green Energy Mobility
Aeloi Technologies is pioneering a software that monitors the end-use of micro-business loans. Our Green Energy Mobility (GEM) product is increasing financial inclusion for women electric vehicle drivers, known as safa tempo, in Kathmandu, Nepal.
Transportation & Mobility
Inclusive Urban Planning
Air Quality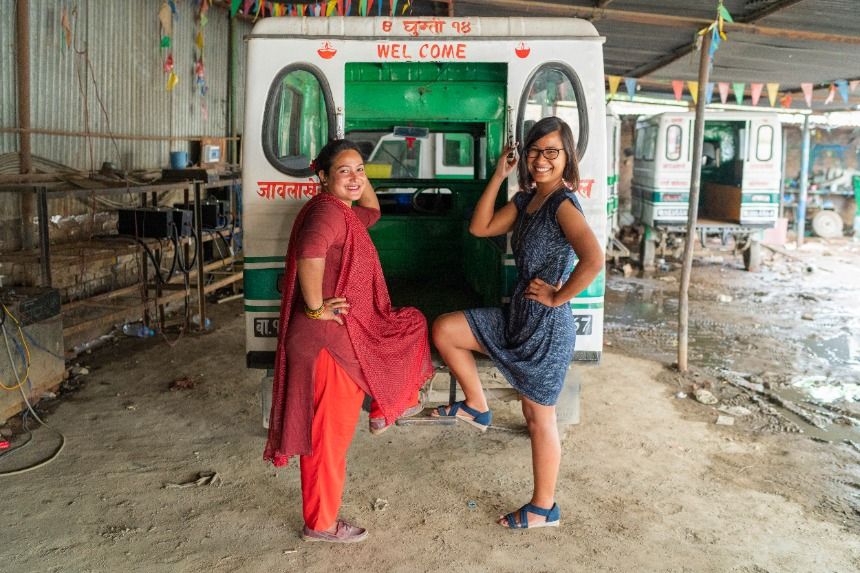 Learn more about our solution
Aeloi Technologies is pioneering a system to monitor the end-use of micro-business loans. We automate the costly process of tracking loans for last-mile entrepreneurs, fostering trust to invest in the grassroots economy. Thus helping unleash the entrepreneurial potential of 400 million informal sector enterprises to create local solutions.
Affordable financing is one of the largest barriers to power the growth of microenterprises. 400 million entrepreneurs in emerging markets have solutions to local needs and willing customers. They just lack capital as indicated by their US$8 trillion credit gap. On the other hand, impact sector funding, such as climate financing and development funding, totalled US$550 billion in 2018. Yet, it is expensive and complicated to trace how much of this financing directly reached the hands of grassroots entrepreneurs.
In particular, 700,000 microentreprises work with climate technology in developing countries. For example, Sachita is an informal sector microentrepreneur driving an electric minibus in Kathmandu. Her main challenge is finding an affordable loan to upgrade her vehicle battery from lead acid, which lasts 1 year, to lithium ion, which lasts 6 years. As she has no collateral, credit history, or proof of her daily earning ability, financial institutions refuse to give her a lower interest business loan for the more expensive lithium ion battery. She is forced to buy a lead acid battery every year even though it would be more profitable and eco-friendly to buy a lithium ion one. 
Our product Green Energy Mobility (GEM) aims to make renewable energy powered public transportation a quality alternative to private vehicles to combat climate change. Our goal is to turn the social and environmental challenges of mobility in Nepal into a commercial opportunity to boost women microentrepreneurs. We are starting with 700 electric minibuses in Kathmandu. The industry started 25 years ago and is still mainly operated by women drivers in the male-dominated transport sector.
Currently, the biggest challenge for women safa tempo drivers is upgrading their electric vehicle technology because of expensive financing options. We help drivers access low-interest financing. Especially, we want to help them become accredited carbon offset providers. Drivers use our digital tokens to buy inputs from pre-approved vendors, ensuring each $1 of carbon offset is used within the electric vehicle ecosystem.
Using digital tokens, we build a "credit for business only" ecosystem through linking vendors, borrowers, financial institutions, and impact investors. Digital tokens are a flexible form of vouchers only usable at pre-approved vendors. We provide a real-time digital link from the funding source to the end investment in microentrepreneurs. Investments are locked in to the system, making sure all funding is for assets critical for small businesses.
Aeloi aims to become the premier marketplace to invest in green grassroot entrepreneurs. Our pilots have shown a strong value proposition for all stakeholders. Impact investors gain impact and returns. Financial institutions can track loans easier. Borrowers gain more affordable finance and financial discipline.
Meet the solution owner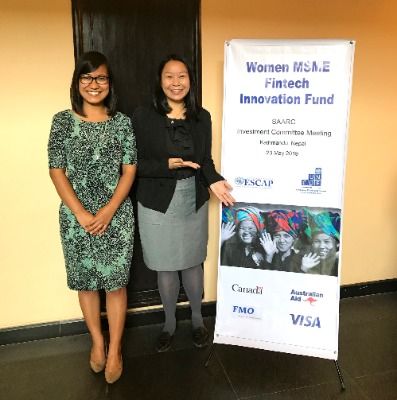 Aeloi Technologies
Co-Founders
Aeloi's co-founders, Tiffany Tong and Sonika Manandhar, bring a combined 20 years of fintech, international development and computer engineering experience from the World Bank, Microsoft Innovation Center (Nepal), and Singularity University.
Contact Aeloi