Andean Ancestral Terraces in Peru
To fight climate change, the community of Ancocala activated their ancestral knowledge, to implement a system of terraces and irrigation channels that will serve to optimize water, prevent soil erosion and protect their crops.
Sustainable Building
Culture, Communication & Heritage
"10 de Agosto" Ancocala
Peru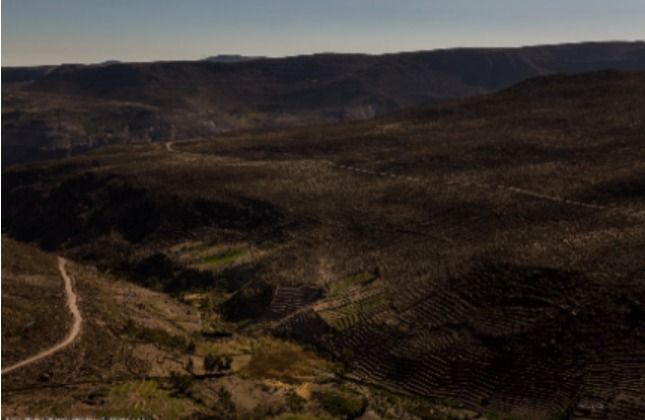 THE PROBLEM
Agriculture supports the livelihoods of Ancocala. Potato, chullpi corn and various native crops used for local consumption and trade grow on their land. However, the steep slopes that characterize its geography make this a challenging activity. Untimely rains, intense droughts, heavy frosts and new pests threaten to destroy crops and leave the community without their main source of food. 
To face these challenges, the community of Ancocala implemented a system of terraces and irrigation channels that optimize water, prevent soil erosion and protect their crops. The ancestral knowledge they treasure is their best weapon to fight against that silent enemy that threatens their development: climate change.
THE SOLUTION
Traditional terraces are built on steep slopes of the Andes mountains for communal and family agriculture.
Traditional terraces allow agriculture in the mountains, creating flat areas with deep soil, suitable for crops
The design of terraces and its integration with efficient irrigation systems, favours soil conservation, as they prevent erosion
Terraces protect crops from extreme weather and improve their productivity, contributing to food security and to the conservation of Andean agrobiodiversity
Terraces systems keep alive the ancestral knowledge and traditions that contributes to the socio-ecological resilience of Andean communities
Achievements:
Through an integral solution that involves restoring ancestral knowledge, capacity building in agro-ecology, and collaborative work, 31 Ancocala local producers have restored 11 hectares of traditional terraces and 2.4 kilometers of irrigation canals. These practices improved soil fertility and irrigation efficiency, therefore increasing the productivity of crops like potato and maize by 18%.
By restoring farming area in a sustainable way and keeping alive traditional knowledge, the resilience of men and women (who face the impact of climate change) improves.
This initiative inspired two other projects supported by the Peruvian Government for the improvement of technified irrigation systems and access of producers to local markets.
WATER ADVOCATE
Knowledge is a treasure. In the Andes of Peru, this treasure is guarded by the Yachachiqs, local wise persons whose mission is to spread their ancestral knowledge from town to town to build a better future.
Amadeo Maquera is also on his way to becoming Yachachiq. He is 70 and has more than 30 years dedicated to the construction of irrigation canals. "I use ancient techniques for water management. Now I am considered an expert and I am teaching more communities" he declares proudly.
ANCIENT COMMUNAL WORK
The perfection that the community have achieved in the construction of terraces and irrigation canals would not have been possible without the "Ayni", the colective reciprocal work that has been maintained in Ancocala since ancient times. Guided by their leaders, Ancocala farmers support each other. "We are making a great effort, we dedicate 15 to 20 days a month to the construction of terraces and channels", says Silvio.
Rotative cultivation is another technique they use to protect their soil. In the words of Silvio Cacallica, farmers association's president: "The potato harvest occurs only twice a year. Then we alternate with crops of corn and beans so that the soil can regenerate naturally".
Meet the solution owner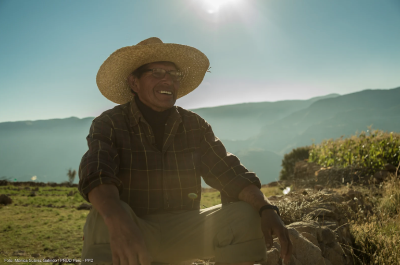 "10 de Agosto" Ancocala
WATER ADVOCATE
We aim to be the leaders in the recovery of traditional knowledge and organic farming in terraces for the sustainable use of water and soil resources and the conservation of Andean agrobiodiversity in the community of Ancocala, Tacna, Perú.
Contact "10 de Agosto"